Skip to Content
Specializing in PTSD Service Dog Training in DFW
Service Dog PTSD Training at Hilton Butler
Welcome to Hilton Butler Inc., your number one destination for PTSD service dog training in the DFW area. Service dogs are specially trained to assist people with disabilities, and they can be any breed or size. They learn over 200 commands and help people who have PTSD live more independent lives.Our main objective with this page is to enlighten you about the role of service dogs in helping individuals cope with PTSD, and how our compassionate and dedicated trainers can assist you in this transformative journey.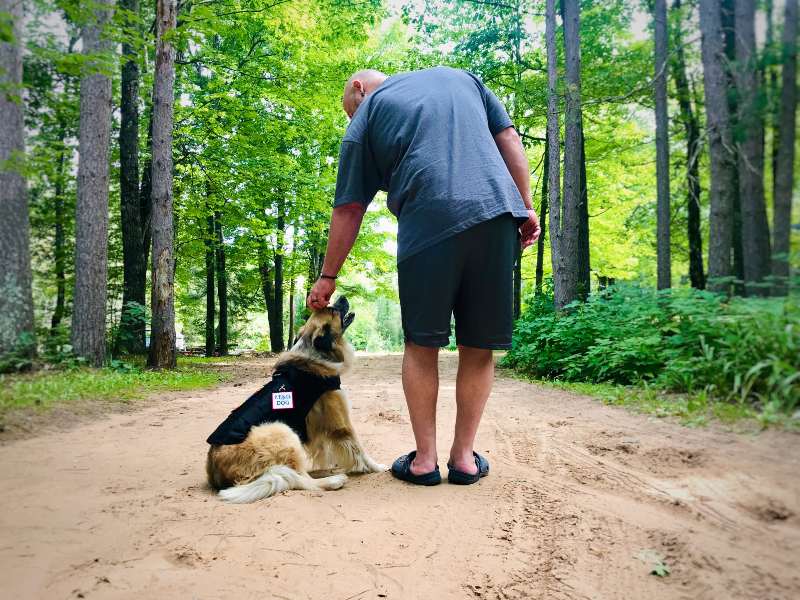 Understanding PTSD (Post-Traumatic Stress Disorder)
PTSD is a debilitating mental health disorder, often triggered by experiencing or witnessing a traumatic event. Symptoms may include disturbing flashbacks, avoidance of certain people or places, heightened reactions, and severe anxiety. These symptoms often lead to substantial distress and disruption in one's social and occupational life.
Role of Service Dogs in Assisting Individuals with PTSD
The benefits of service dogs for individuals with PTSD are manifold. They provide unwavering emotional support, reduce feelings of isolation, and promote a sense of safety and normalcy. They are also trained to perform tasks that help mitigate symptoms, such as grounding techniques during panic attacks and providing comfort during emotional distress. A PTSD service dog serves as a comforting companion and a reliable bridge, leading the individual back to a fulfilling, functional life. This is where our highly skilled PTSD dog trainers come in.
Overview of PTSD Service Dog Training at Hilton Butler Inc.
At Hilton Butler Inc., we believe in the potential of every dog to become a life-changing companion. Our PTSD service dog training program is carefully designed to align with the unique needs of individuals suffering from PTSD. We combine evidence-based methodologies with a personalized touch to offer our clients the most effective PTSD therapy dogs.
Benefits of PTSD Service Dog Training
With PTSD service dog training, not only does your dog become a reliable assistant, but they also become a channel for emotional regulation, social interaction, and engagement with the world outside. The benefits of our service dogs for PTSD include:
Assisting in handling anxiety and panic attacks.
Offering emotional support during depressive episodes.
Providing a sense of security and companionship.
Enhancing self-confidence and encouraging social interaction.
Helping individuals in regaining control over their lives.
Our Approach to PTSD Service Dog Training
At Hilton Butler Inc., we believe in a holistic approach to PTSD service dog training. We start by evaluating the specific needs of the individual and the behavioral traits of the dog. Once we understand the dynamics of their relationship, we tailor a comprehensive training program aimed at equipping the dog with skills necessary to offer emotional and physical support. We provide the dogs with an enriching environment that promotes learning and development. Our training program involves obedience training, task-specific training (like guiding the handler during a dissociative episode), and socialization training. The program is conducted under the guidance of our highly skilled PTSD dog trainers, who constantly monitor and modify the training process based on the dog's progress and the individual's needs.
What to Expect from Us?
With Hilton Butler Inc., you can expect a compassionate and dedicated team committed to delivering exceptional PTSD service dog training. We are here to guide you through every step of the process, ensuring your service dog is adequately trained to assist you in your journey towards healing and recovery. Our approach is based on respect, empathy, and understanding for you and your service dog. We believe that by fostering a positive bond between the handler and the service dog, we can cultivate a successful partnership that stands the test of time. Our team in the DFW area is always ready to address your concerns and provide updates about your service dog's progress. We pride ourselves on our transparency, commitment to our client's well-being, and exceptional service. If you or a loved one is grappling with PTSD and you believe a service dog could help, please don't hesitate to contact us. We are here to provide support, answer your questions, and guide you through the process of PTSD service dog training. It's time to embark on a journey toward healing with your PTSD service dog. We also provide Hyperactive dogs, aggressive dogs, and Personal protection dogs training.  Contact us today to speak with our professional team, and we'll get back to you as soon as possible. At Hilton Butler Inc., we're not just training service dogs but empowering lives. Your journey toward healing and recovery starts here.
Contact Us Today for
More Information