Skip to Content
We Train Personal Protection Dogs in the DFW Area
Trust Hilton Butler for Training Guard Dogs
Hilton Butler proudly trains dogs to be competent, happy, obedient protection dogs. Our personal protection dog training program has provided families throughout the DFW area with a lifelong companion dedicated to keeping them safe. Guard dogs provide the best of both worlds for families. Families gain a well-trained and loving family member while having reliable protection for the whole house. To learn more about the benefits and importance of our personal protection training, keep reading, or give us a call. Our family looks forward to working with yours.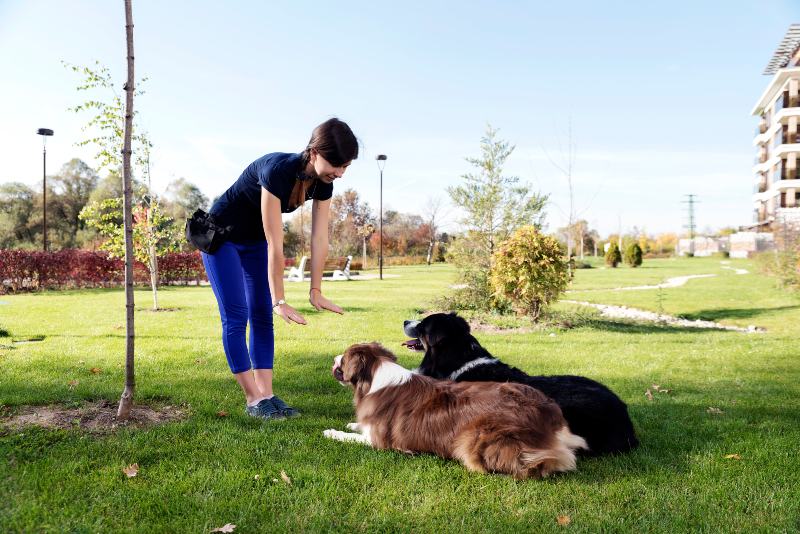 What Is Personal Protection Dog Training?
Our personal protection dog training services turn your furry friend into a highly trained dog capable of protecting you and your family from harm. When you're home, your dog will be there to keep you safe from potential intruders, or while on the road, you'll be safe from car-jackings. At first glance, it may seem like a similar approach to training a police dog, but there are specific differences. A successful training program ensures the dog respects and trusts the owners and constantly works in the owner's best interest by balancing aggression and nurturing tendencies to create a solid, lasting relationship.
Overview of Our Protective Dog Training
The team at Hilton Butler expects all our protection dogs to be friendly, affectionate, and obedient. A well-trained guard dog will protect your family on command or in specific scenarios. Our training program is an advanced form of our traditional training program, which instills a sense of responsibility in your dog. At the end of our training, your dog will be able to comprehend and fulfill their role as a protector first and a family pet second. We're confident that after our extensive training, your dog will handle any intruder or threat in an alley or a park.
Importance of Family Protection Dogs
There's no better addition to any family than a well-trained guard dog. They can play with the children while being an ever-watchful pair of eyes poised to protect the family at a moment's notice. If you've ever felt unsafe walking through the park or going to your car at night, a family protection guard can help alleviate those fears. They're an effective way to stop a threat. Your guard dog will protect you and your family day in and day out. Further, contrary to popular belief, personal protection dogs are great family pets. They're not aggressive dogs but calm and intent companions focused on keeping their families safe.
Discover the Benefits of our Guard Dog Training
When it comes to home security, you can never be too prepared. Most families prefer a simple alarm system, but a trained guard dog is better. Beyond having a loving companion, you'll have protection trained to identify and alert your family of potential danger. If a threat occurs, your dog will keep everyone safe. Take a look at some additional benefits of having a trained dog in the household:
Increased Protection
While this may seem like a no-brainer, having a guard dog is like having 24-hour protection. Your family protection dog will provide you with unrivaled levels of defense against any potential threat.
Highly Trained Pets
After our training program, your dog can walk without pulling on the leash, won't beg for scraps, and more. You'll be able to reliably give commands with an almost instant response.
Peace of Mind
Having a highly trained guard dog can provide peace of mind to new parents, senior citizens, and people who live alone. You can rest easy knowing your home and family are protected.
Why Choose Hilton Butler?
Hilton Butler is a family-owned business that brings family-oriented thinking into our business. Helping families feel safe is just as important as the dogs we train. Our founder, Hilton Butler, has over 20 years of law enforcement experience and was a former Department of Defense Dog Training School instructor. This experience has set our company up for success as it provides an understanding and appreciation for dogs that most can't bring. Further, while our training can be performed via boarding or on-site classes, we also provide in-home training. With in-home training, our goal is to establish and foster a sense of respect and loyalty to the family in an environment the dog knows.
Take Advantage of Our Protective Dog Training
A family protection dog could be what you're looking for if you want a family companion who can keep everyone safe. Our protective dog training lets your dog ward off potential threats while blending seamlessly with your family dynamic. The team at Hilton Butler has the experience and skills necessary to turn your new puppy into your new home defense system. Family protection dogs offer several benefits for families or individuals seeking peace of mind. To learn more about how we can help, give us a call.
Contact Us Today for
More Information