Skip to Content
Hilton Butler Advanced Training
Advanced Training for Dogs in Dallas-Fort Worth
Our Advanced Dog Training program is designed for dogs who are a year old or older and who have had previous training. We want to help you reinforce the training you've already provided your dog, while also helping you maintain control over your dog when it's off-leash. Off-leash dog training provides you with the flexibility of having your dog off of the leash and improves your confidence as a handler.  This program expands the time and distance in all obedience tasks and helps work around distractions that might affect your dog's behavior and compliance. To learn more about the benefits of our Advanced Training for dogs in Dallas-Fort Worth, give us a call today.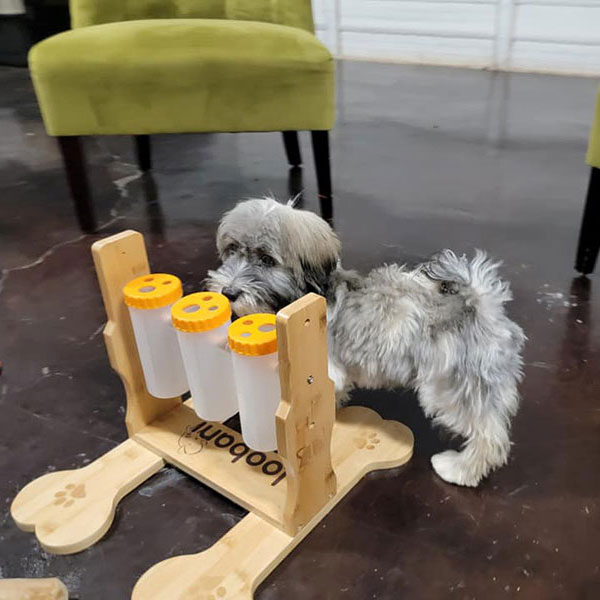 What Is Advanced or Off-Leash Dog Training?
Advanced or off-leash dog training focuses on the five basic commands – sit, stay, down, come, and heel – by expanding the time and distance of these commands and reinforcing them so your dog complies even when off-leash. This Advanced Training Program gives you the power to control your dog even in unfamiliar or distraction-heavy environments when your dog would normally be reluctant to comply with your commands. We help you continue the training your dog already has and add to it by making sure your dog continues to obey even when not leashed.
The Benefits of Advanced or Off-Leash Dog Training
Our Advanced Training for dogs will help you reinforce training your dog already has, while also establishing the correct behavior for your dog when it is off leash. Our advanced dog obedience training has the benefits of:
Giving you more flexibility and control when your dog is off leash
Increasing your confidence in handling behavior issues
Giving you the right tools and techniques to discourage unwanted behavior in public and when off-leash
Reduce the risk of your dog running away or getting out of sight when off-leash
Encouraging good behavior even when your dog isn't by your side
Preventing your dog from ending up in a dangerous situation because he gets distracted while off-leash
Our Approach to Advanced & Off-Leash K9 Dog Training
At Hilton Butler, we work closely with you and your dog to maintain the training tools and techniques you've already learned and teach you new techniques for maintaining off-leash control.  Our goal is for you to feel as comfortable about controlling your dog's behavior when he's off-leash as you are when he's right by your side. When we begin our dog training, we will use this approach:
Attention & Distraction Control
Help your dog maintain focus and continue to obey commands even when in a distracting or unfamiliar environment. Allows your dog to safely be off leash in an approved environment.
Human and Dog to Dog Interaction
This part of advanced dog training focuses on maintaining your dog's focus on you and obeying your commands while off-leash, even when you encounter other humans or dogs. We will teach your dog our expectations for social interactions regardless of species.
Obedience
Even when your dog is off-leash, he or she should still obey your commands and maintain focus on you. Our Advanced Training Program allows you to safely have your dog off-leash while remaining secure in the fact that your dog will obey your commands.
Contact Hilton Butler for Advanced Dog Obedience Training
At Hilton Butler, we give you the training and tools you need to modify your dog's behavior and discourage unwanted behavior in your dog, whether off-leash or on. To learn more about our advanced dog training or to schedule a meeting in Dallas-Fort Worth, call us today or contact us online.
Contact Us Today for
More Information