Skip to Content
Comprehensive Obedience Training Programs in North Texas
Hilton Butler, Inc. is passionate about helping dog owners foster an environment where their pet is well behaved and feels loved. We offer a range of K-9 Bootcamp training programs for dogs of all ages. Our Basic Training Program is designed for dogs who are 6 months of age or older. Your dog will become a member of our family while he learns general house manners such as no nipping, jumping, or biting. He will learn to respect boundaries such as furniture and personal space. Your dog will learn all the basic commands as well as develop good socialization habits with children, adults and other dogs.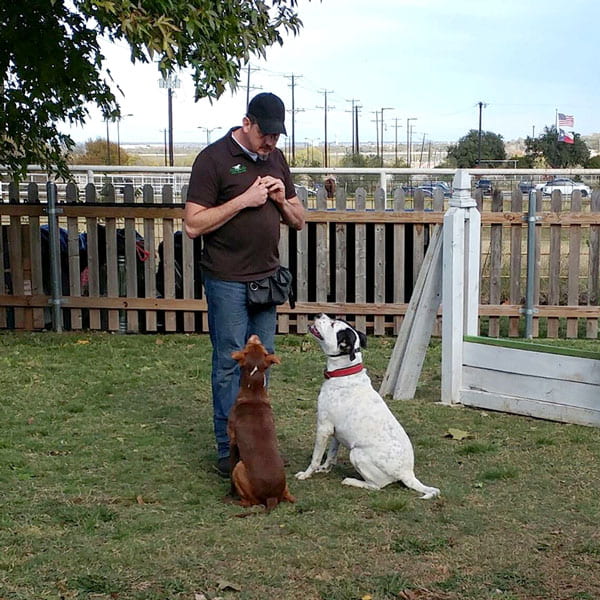 Our Family Style Program Gives Dogs the Most Effective Training
During their stay we will teach your dog all of the basics needed to succeed. They will learn five basic commands and four corrective commands. We teach all commands in verbal and hand command. Our verbal commands are taught in English and German. Our expectation is an 80%-90% rate of return on these commands regardless of distraction.
Sit
Down
Stay
Come
Heel
Out
Off
Leave It
Enough
We Provide a High-Quality, Comprehensive Approach
One of the reasons we have such success training dogs is our comprehensive program. Dog training is as much for humans as it is for the dogs. We teach you how to maintain the training throughout your dog's lifespan. Each program includes four in-home lessons that are designed to help you, the owner, understand how to communicate better to your dog. During these sessions, we will educate you on basic dog psychology, how to reinforce training and how to increase your dog's obedience level. Our Basic Training Program package includes unlimited zoom video lessons as well.
Contact Us Today for
More Information