Skip to Content
Dog Board and Train Program in DFW
Professional Dog Trainers
Hilton Butler's K-9 Bootcamp offers the highest quality dog boarding and training services in DFW. We are the premiere dog trainer for Collin County and surrounding Dallas/Fort Worth areas. We offer a home environment for your dog to train in.  Dogs learn and grow through several daily training sessions with our experienced dog trainers. We offer boarding and training programs for dogs of all sizes and ages. Our programs include training with all our family members and staff to ensure your dog practices obedience in a realistic home environment.  After completing your boarding and training we will include in-home lessons to work with your family in your home. Contact us to learn more today!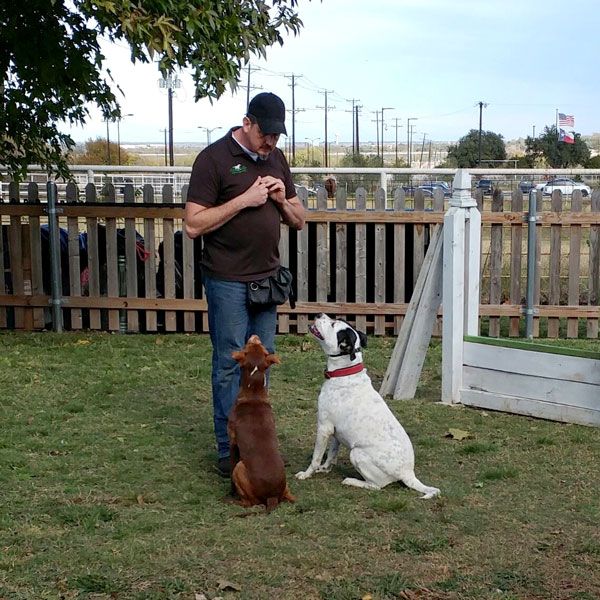 What is Dog Boarding and Training?
Our K-9 Bootcamp Programs are professional, customized boarding and training programs tailored to your dog's and family's needs. Hilton Butler provides a comfortable, engaging atmosphere with successful techniques backed by science-based research. Our dogs in training receive custom one-on-one time with Hilton Butler and his team. We implement short training sessions throughout the day integrating play with work. Each dog is brought into our home environment during their training to ensure that the lessons learned in boarding and training transfer back to your home. They learn to be well-mannered, social, and obedient.
How It Works
The Hilton Butler K-9 Bootcamp utilizes a smaller number of classmates to ensure your pup receives quality attention and training. We send you weekly updates with detailed information about your pup's progress including monitoring their eating/stress/and weight.  We post pictures and videos of your dog throughout the weeks they are with us. Your dog will enjoy three sessions a day that include obedience training with Hilton Butler, obedience training with another member of our team, manners sessions, socialization session and free play. After your dog attends our dog boarding and training program, we will teach you everything we have shown your furry friend. It's essential to remain consistent with your dog's training to maximize the positive results. We will have follow-up training sessions at your home as well as unlimited Zoom lessons, phone and email support. We are always here to answer questions and address concerns before and after the program. At Hilton Butler's K-9 Bootcamp, you and your dog become a part of our family.
Dog Boarding and Training Program FAQ
Our team is here to answer your most frequently asked questions about our dog boarding and training programs. Feel free to contact us with further questions.
Contact Hilton Butler Today!
Hilton Butler is a family-owned and operated dog training company serving DFW. For over 17 years, we've helped dogs learn obedience, manners, and social skills. We're excited to welcome your dog into our training family. We're passionate about watching dogs transform in a short period of time. We work with all ages and all types of dogs. Contact us today to learn more about our programs!
Contact Us Today for
More Information